Wedding Planning & Coordination
Our primary services are wedding planning and coordination. Planning which resort to have the wedding, which venue to pick for each event, which themes to choose for the décor, which flowers and colours to infuse, which sort of entertainment to have for each day and how to put all this together and make it a wedding to remember. We also offer pure wedding coordination services for couples who only need a team to coordinate their big day. You could also visit our exclusive wedding planning website GoaWeddingPlanners.in and start planning your destination wedding in Goa !
Wedding Resort & Venue Booking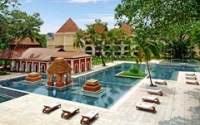 Choosing your wedding venue or resort is a very important and difficult decision. However choosing the right one is half the job done! With our experience in the travel and tourism industry in Goa we can assure you of the best deals and the most ideal venue for your wedding in Goa. In fact we even went a step further and created this special website just for this purpose. Browse through GoaWeddingVenues.com for a list of Goa's top rated and lesser known wedding venues and resorts available all across Goa.
Wedding Decor & Audiovisuals
The Big Day Wedding Planners is also a fully functional production house for weddings and events. This includes themed décor for weddings and theme parties in Goa. We have a complete team of production heads, sound and light engineers and décor designers that work tirelessly to bring out the best for your wedding. You can visit our exclusive wedding décor website www.GoaWeddingDecorators.com
Wedding Photography & Cinematography
Lights, Camera Action! We can help you choose a photographer that suits your requirements, your budget and your style - be it traditional or candid photography, we can organize pre-wedding bridal shoots, wedding event photography and we can also setup a live photo booth with instant prints. We also provide complete wedding cinematography services which include the wedding video, montages and digital albums which can be viewed online even on your wedding website! Visit GoaWeddingPhotographers.com for more details.
Wedding Food & Beverage Management
We have a number of outdoor caterers associated with us who can provide delicious and affordable spreads for your wedding reception in Goa. We can also arrange for waiters, bar tenders, food and beverage setups, cutlery, crockery and other catering requirements in Goa. At Resorts who offer their own catering services we can also assist you with the buffet menu selection, fruit and ice carvings, buffet décor, banquet setups and table top décor. We also have vendors for specialized and themed wedding cakes in Goa. Visit GoaWeddingCaterers.com to pick your menu for the big day.
Wedding Flowers & Favors
We can source and provide you with fresh flowers and floral décor from anywhere in India and the world. Wild Orchids, Oriental Lilies, Dutch Tulips, Hydrangea, Chrysanthemums and Banksias are all a part of our fresh floral shop. We also have professionals who can provide you with customized hand crafted wedding favors, boutonnieres, corsages, flower baskets et all.
Wedding Artist Management
We can help you decide the right kind of wedding entertainment for your guests and also to choose the right entertainers for the same. Our in-house wedding entertainers include Wedding DJs, Wedding Bands, Solos, Duos, Trios, Fire Dancers, Wedding Comperes and Cultural Dance Troupes. We have also organized International artists in Goa like renowned musicians, magicians, African Acrobats and Russian Belly Dancers. Visit GoaWeddingBands.com to watch & listen to your artist before booking them.
Wedding Salon Services
We provide consultation and coordination with designers and stylists for hair, makeup, wardrobe, accessories and sari draping in keeping with latest international trends and brands. We also provide Wedding Mehndi artists, Nail Painters & Tattoo Artists for the bride and the guests for your Mehendi function. Pamper Yourself with Ayurvedic Spa Treatments and Massages before your Big Day. Visit our exclusive wedding salon site GoaWeddingSalon.com
Wedding Cars & Transportation
We have a huge selection of wedding luxury cars, wedding vintage cars and wedding coaches available at your disposal for your wedding in Goa. We have the BMW 5 Series, Mercedez Benz E Class, Audi A4, Ford Vintage Cars, the Volkswagen Beetle and many more. We also provide Coaches and SUVs for your airport and train station transfers. You can visit our Wedding Transportation website GoaWeddingCars.com for pictures and packages.
Wedding Baraat & Ceremony Services
We offer complete services for the royal Indian wedding baraat. This includes the baraat brass band, Punjabi dhol players, the groom's Ghodi (white female horse), the bridal doli or floral chaadar, wedding elephant and other non conventional baraat options. We can also assist in procuring license to organize the baaraat on public roads in Goa. We can also provide you with a Pandit to perform the pheras, live shenai music and other ceremonial requirements.
Wedding Attire & Accessories
We can assist you with finding the best gown designers and wedding attire stores in Goa for making your bridal gowns, bridesmaid dresses, suits and tuxedos for the groom and the grooms men. We also offer the service of hiring a wedding gown for your sunset wedding in Goa. We also have several associates who can assist you with your bridal accessories like tiaras, clutches, bouquets and much more.
Wedding Invitations & Websites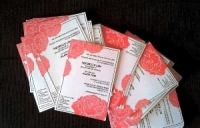 We can assist you with your guest invitations by creating personalized and hand crafted invitation cards. We have also started creating e-invites for your guests from abroad who you plan to invite for your destination wedding in Goa. You can also link this to your personalized Goa wedding website with your own Domain Name, RSVP, Wish lists, Gift Registries, Wedding Quiz and loads more. We offer a Complimentary Wedding Website to all our destination wedding clients.
Wedding Permissions & Licenses
We can assist you with procuring any permissions or licenses required to organize your wedding in Goa. These include entertainment licenses like PPL & IPRS for live performances and recorded music for your events in Goa. We can also procure the official Government permissions to organize a beach wedding ceremony on any public beach in Goa. We do not like to get our hands mucky with underhand activities as we are socially responsible and hence we prefer that we conduct all our events legally and ethically.